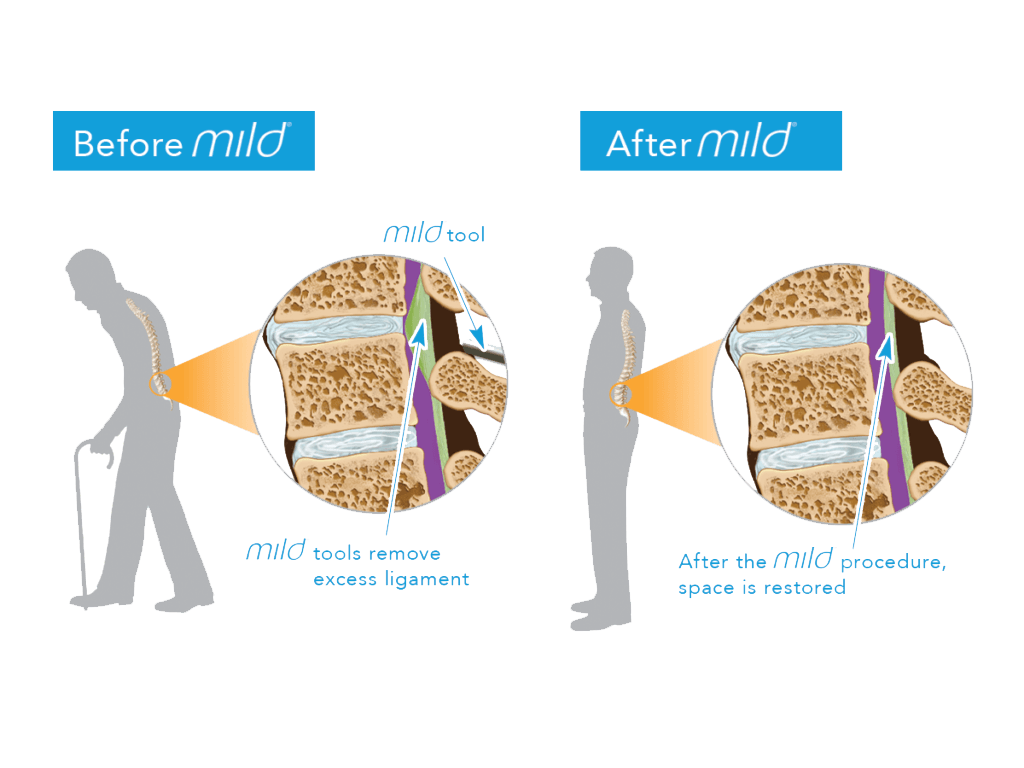 The MILD®
Procedure: Minimally Invasive Lumbar Decompression
An excellent minimally invasive procedure for Lumbar Spinal Stenosis.
Minimally Invasive Lumbar Decompression (MILD®) also called Percutaneous Image-Guided Lumbar Decompression (PILD)
Minimally Invasive Lumbar Decompression (MILD®), also known as Percutaneous Image-Guided Lumbar Decompression (PILD) is an excellent and minimally invasive treatment for patients suffering from spinal stenosis symptoms, namely lower back pain with leg heaviness numbness and/or tingling with walking that improves with sitting.
With the MILD® procedure, needle-like instruments are used to remove a portion of a thickened ligament in the back of the spinal column to increase spinal canal space and remove nerve root impingement. Only patients with lumbar spinal stenosis and a thickened ligament ("ligamentum flavum hypertrophy") are candidates for this type of decompression. During the procedure, your physician uses a fluoroscopy (X-Ray) machine to view your spine and identify the appropriate location for the procedure. She makes a tiny incision at the site of the stenosis. Using delicate instruments, she extracts tiny bits of bone and surplus ligament tissue and then closes the incision.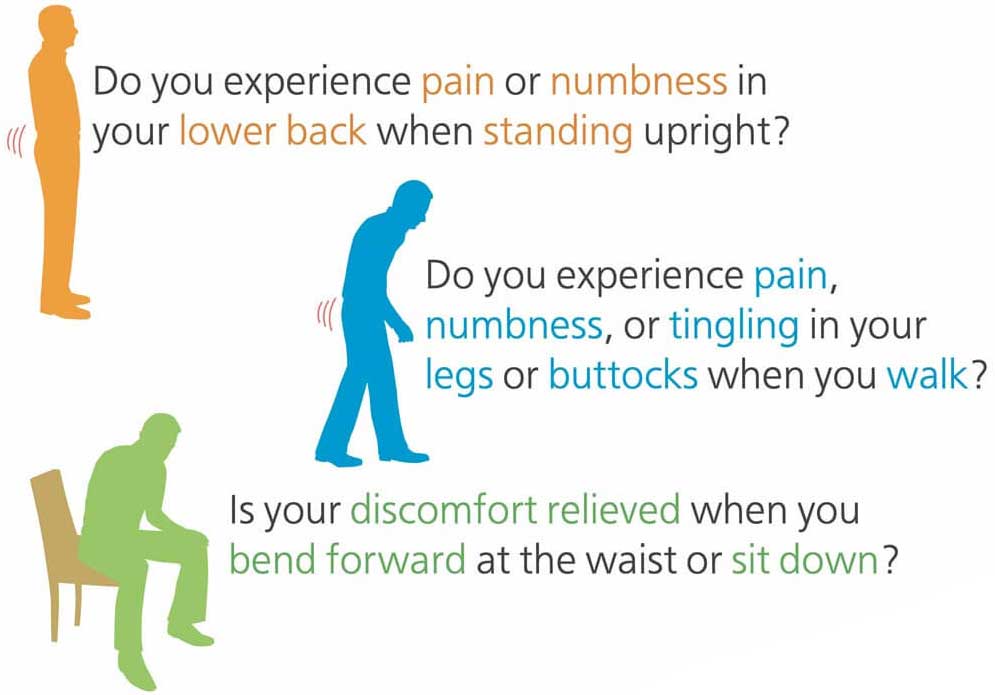 The procedure is minimally invasive and takes about an hour. It takes place in an outpatient setting usually a surgery center, and, in almost all cases, you may go home the same day of the procedure.
Benefits of The MILD® Procedure
The MILD® procedure has many advantages over other options for chronic lower back pain:
1.       It's minimally invasive. Your doctor makes a very small incision, causing no huge scars and no use of stiches. Because it's minimally invasive, recovery is much quicker than with regular surgery.
2.        It's safe.
The MILD
®
procedure is a well-documented, FDA approved and safe procedure. Thousands of patients have had successful MILD surgery with a low documented complication rate.
3.       No general anesthesia is needed.
There are risks associated with general anesthesia. You don't need it for the MILD procedure. Sedation is provided for your comfort.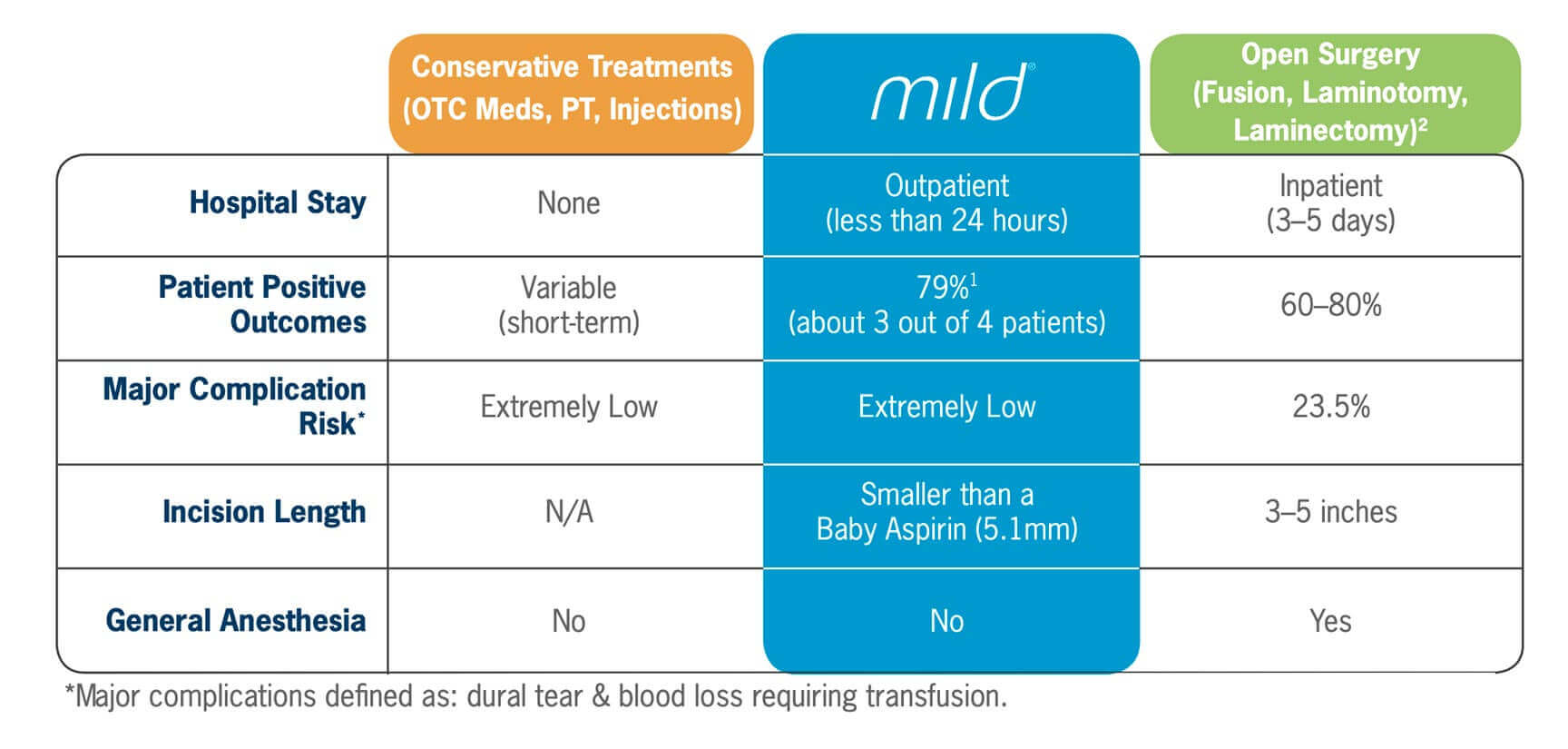 How soon can I resume my normal routine?
You should be able to resume normal daily activities in a few days. Refrain from heavy lifting or rigorous activities until your doctor gives you the ok with written instructions to follow.
You should feel relief once immediately after the procedure, as your nerves should once again have the proper amount of space between them and your bones, ligaments, and discs.
Can the MILD® procedure work for everyone with lumbar spinal stenosis?
Your physician will perform a thorough examination, review your medical history, and use appropriate test such as an MRI to determine the extent of your stenosis. Some individuals may not be candidates for the MILD procedure if the stenosis is severe. Your doctor will help you decide which treatments are best for you.
For more information about the MILD® procedure see:
The MILD® Procedure can provide lasting relief.
With a safety profile similar to an epidural steroid injection, MILD® restores space in the spinal canal to improve back and leg pain.
The MILD® Procedure Video for Lumbar Spinal Stenosis (LSS) Treatment.
A minimally invasive, outpatient procedure, MILD® addresses a major root cause of lumbar spinal stenosis (LSS) to improve back and leg pain by removing excess ligament tissue to restore space in the spinal canal.
Clinical studies show that
mild

®

is a

Safe

procedure that
can help you

stand longer

&

walk farther

with less

pain.
Low complication risk
Outpatient Procedure 
No general anesthesia
No stiches or implants left behind
Significant Improvement :
Standing time increase from

8

to

56

minutes3
Walking distance increase from

246

to

3,956

feet 3

53%

pain reduction 1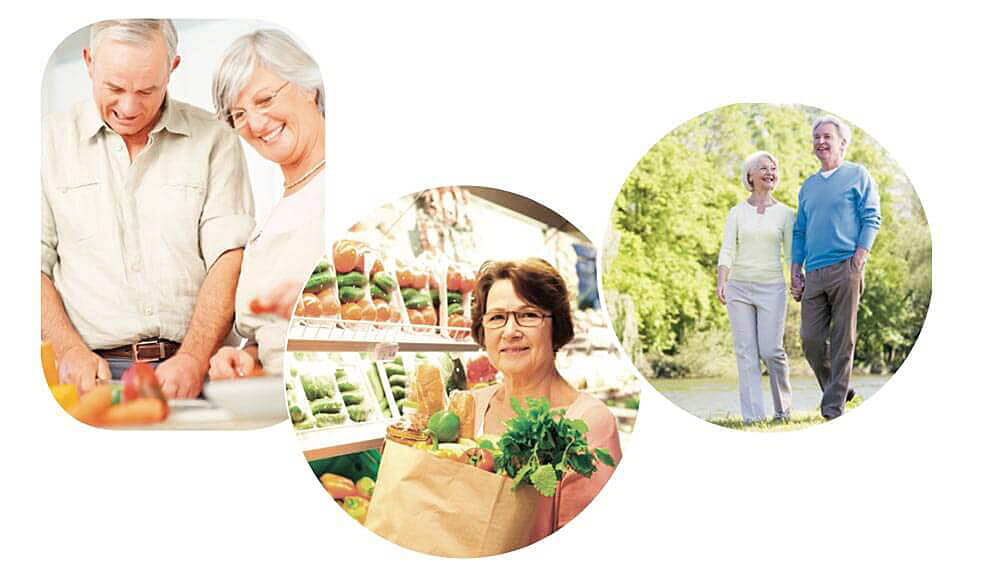 Return to the daily activites of your life, such as cooking a meal, taking a stroll in the park, or grocery shopping.
*Results may vary
1Data based on average of responder group at 1 year from MiDAS I study.
2Based on SPORT study.3Averages bsed on clinical data from Cleveland Clinic study.
non-Surgical Treatments for Back Pain